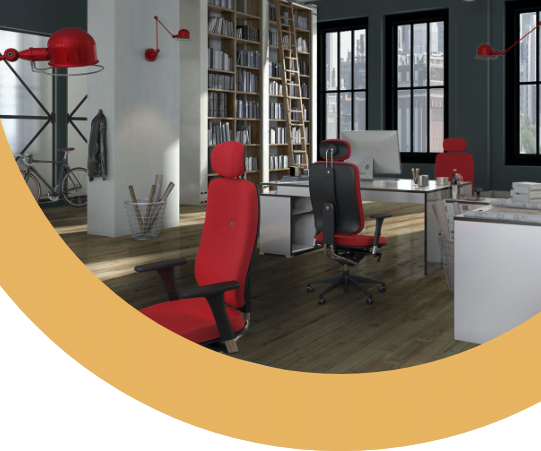 dans nos sièges & fauteuils de bureau ergonomiques fabriqués en France
The importance well-being at the office
It doesn't matter to us whether you sit down on your office chair heavily, gently or impatiently. Our main concern is your well-being at work… and has been for 50 years now.
We know that prolonged sitting can cause musculoskeletal disorders: back pain, neck or muscle pain. Sitting in the right posture is essential for the development of each person and therefore for productivity. Navailles offers a wide range of ergonomic office chairs adapted to the user's morphology (adjustable height, lumbar support, headrest, etc.) and their movements at work (castors, reclining backrest, etc.).
Navailles s'invite chez vous avec sa gamme de fauteuils de bureau adaptés pour le télétravail.

A factory of craftsmen,
with us machines are at the service
of people, not the other way round !
Nos sièges de bureau pour travailler et accueillir
Il y a en général deux raisons de se tourner vers des fauteuils de bureau de qualité supérieure comme ceux de la gamme Navailles : Travailler plus efficacement ou accueillir dans des conditions exceptionnelles.
Grâce aux matériaux de revêtement ainsi qu'au confort des fauteuils de bureau ergonomiques que nous proposons, vous pourrez disposer d'une grande qualité d'assise pour vous, vos collaborateurs et/ou les personnes que vous accueillez dans un cadre professionnel.
Trouvez dès maintenant le modèle qui vous convient le mieux parmi une large gamme de fauteuils fabriqués en France. Que ce soit le prix, le design, le tissu ou les réglages disponibles, vous allez forcément trouver les fauteuils qu'il vous faut.
At Navailles, we are convinced that it is not size that counts, but performance. Our offering is open to all structures regardless of their size or activity. Whether you are a freelancer, startup creator or CEO of a multinational, we have an ergonomic solution for you. We take into account your conditions of'use (duration of'daily use, etc.) and the constraints of your workspace to give you the best of our expertise.
We have a team of'experts to help you make your project a reality. They are responsive to all your needs and objectives. Like supercomputers, they analyse your working environment and propose ergonomic solutions that correspond to your constraints and conditions of use.
Ergonomics to prevent musculoskeletal disorders
An ergonomic and comfortable seat helps prevent musculoskeletal disorders (MSD) and improve the quality of life at work. It thus offers lumbar support and helps maintain optimal posture throughout the day. No more discomfort and back pain! We even produce chairs recommended by occupational medicine to accompany the return to work of people who have suffered from severe MSD.
Envie de suivre les actualités de Navailles ?

Vous découvrirez les coulisses de la manufacture, des portraits et des conseils au service de votre bien-être au travail… et d'autres surprises ! 
La santé et l'efficacité n'ont pas de prix
Quand on pense à ses conditions de travail, on pense surtout à l'ordinateur qu'on a en face de soit ou même aux horaires auxquels on travail tout les jours. On pense un peu moins souvent au confort de notre fauteuil de bureau, qui à pourtant des répercutions sur notre santé, notre bien-être, mais aussi notre efficacité au travail. Navailles est là pour vous apporter toutes les solutions dont vous avez besoin pour éviter les désagréments du quotidien, qui amènent parfois à des arrêt de travail.
Le saviez-vous ?  
Les lombalgies concernent ou concerneront 2 travailleurs sur 3 et sont à l'origine 20% des arrêts de travail. Quand on sait ce qu'un arrêt peut coûter en termes de productivité pour une entreprise ou pour un projet professionnel, le choix d'un fauteuil de bureau ergonomique s'impose. 
The importance well-being at the office
Que vous vous asseyez lourdement, délicatement ou impatiemment sur votre siège de bureau, cela nous importe peu. Notre principale préoccupation est votre bien-être au travail… et cela depuis maintenant 50 ans. Nous savons qu'une position assise prolongée peut provoquer des troubles musculo-squelettiques : maux de dos, douleurs cervicales ou musculaires. Être installé dans la bonne posture est primordial pour l'épanouissement de chacun et donc pour la productivité. Navailles propose ainsi une large gamme de fauteuils de bureau ergonomiques adaptés à la morphologie de son utilisateur (hauteur réglable, soutien lombaire, appui-tête, etc) et à ses mouvements dans le travail (roulettes, dossier inclinable, etc.).