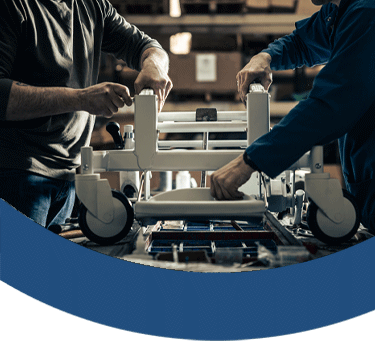 Dedicated services and experts
To support you and meet your needs
Behind Navailles professional chairs, there is a comprehensive process that fully enables us to meet your needs and challenges. We have made well-being in the workplace our main objective. We have therefore developed and perfected services that are both essential and complementary to our products. All you have to do is let yourself be carried away!
Research and development to meet your needs
To best anticipate your needs, Navailles has its own design office. It is key to our creation and continuous improvement process. Our Engineers, draftsmen, designers and prototype producers are responsive to customer feedback to offer ever better ergonomic products. This is how we put the real needs of the market at the centre of our design.
With our technical and postural expertise, we seek to transform trends and create customizable prototypes that truly match your expectations. Our models are thus tested before industrialization to ensure their durability, comfort, safety and ease of use.
To help you make the best choices, Navailles has created a complete and versatile customer service. Seven chair expert sales representatives and eight assistants are at your disposal to help you select the product(s) (and their options) that will best meet your needs. Our customer service is not there just for show: do you have any questions or special requirements? We will always try to satisfy you to the best of our ability, both in the quality of our products and our advice.
Always respecting our customers, please be aware that our site fully protects your data in accordance with the GDPR.
Logistics for convenience
We know that time is money. So you have no time to lose. Navailles takes care of the logistics from A to Z so that you have practically nothing to do. We have a dedicated team, available and reactive for all requests related to the delivery of your order.
We have also signed agreements with ISO 9001 certified carriers like ourselves. Our ambition is to offer you the best possible quality, including in logistics.

Large volumes are shipped to you by affreightment or courier service. To meet our environmental commitments, we seek to reduce our carbon emissions as far as possible by sharing trucks with other companies and investing in a fleet of electric vehicles.
After-sales service including
In principle, you won't need it much, but you should know that Navailles has an after-sales service with a dedicated team. In case of any malfunction, we can treat the problem either on your site or in our workshops in Hagetmau, in the Landes region.
To counter programmed obsolescence, our products are eco-designed so that we can easily change failing parts or assemblies. The objective is to avoid having to buy the product again and thus creating new waste. This means that spare parts are available from stock on request, even for older models of armchairs, chairs or stools.