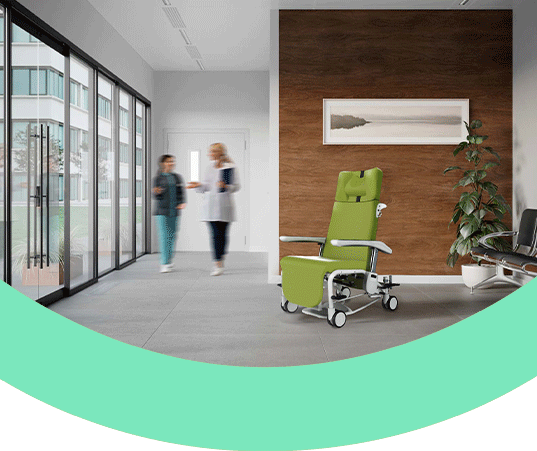 Ensure safe patient movements with our transfer chairs made in France
Patient transfer safety and prevention of the risk of falls are major issues for care and reception facilities. We have created a specific range of medical transfer chairs to meet these needs. Our mobile chairs are equipped with powerful features. They provide a concrete response to these hazards and prevent the risk of musculoskeletal disorders in nursing staff :

• Variable-height adjustment positions the seat level with the bed to facilitate patient transfer 
• Electrical assistance to adjust the seat height with a simple click 
• Height-adjustable and retractable armrests for safe movement and chair-to-bed transfers
• An aid for getting up and sitting down for improved patient autonomy. 
• Optimal handling to ensure better mobility and stability of the seat during the movements.

A factory of craftsmen,
with us machines are at the service
of people, not the other way round !
Ce fauteuil roulant de transfert est parfait pour le transport et la sécurité de vos patients, en plus d'être un siège idéal pour le confort et l'utilisation statique. Son dossier ergonomique et ses roues rendent son utilisation très facile et pratique. 
C'est également un siège qui peut être utilisé en maison médicalisée et à domicile. En effet, son design et ses fonctionnalités ne sont prévus que dans le cadre d'une utilisation hospitalière. Sa fonction de fauteuil releveur trouve également tout son sens en dehors des hôpitaux et chez les patients eux-mêmes.